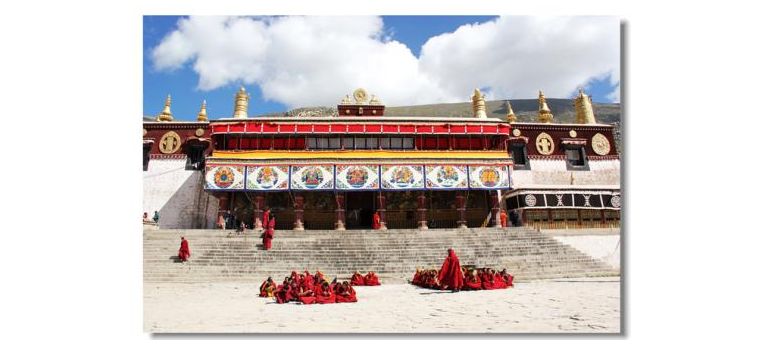 Situated at the foot of the Mountain Gambo Utse, 5 kilometers (3.1 miles) from the western suburb of Lhasa, the Drepung Monastery is known as the most important monastery of Gelugpa in Tibetan Buddhism. It is considered one of the 'Three Great Monasteries' (the other two are the Ganden Monastery and the Sera Monastery). Covering an area of 250,000 square meters (299,007 square yards), it held 7,700 monks in total and possessed 141 fazendas and 540 pastures in its heyday, and is the largest-scale monastery among the ones of the same kind. Seen from afar, its grand, white construction gives the appearance of a heap of rice. As such, it was given the name 'Drepung', which, in the Tibetan language, means 'Collecting Rice'.

History of Drepung Monastery
The Drepung Monastery was established in 1416 by Tsong Khapa's disciple Jamyang Qoigyi, who was versed in both Esoteric and Exotoric Buddhism and became the first Kampo there. With the support of plutocrats, it developed as the richest of its kind of Gelugpa and became the mother temple of Dalai Lamas. In 1546, the third Dalai was welcomed as the first Living Buddha into it. At the invitation of Mongolia's king, he went to Qinghai Province to preach. He was dignified with the title 'the third Dalai Lama' the first and second Dalai were entitled, too. It is the very place that the second, third, and the fourth Dalai Lama held the Sitting-in-Bed Ceremony, as well as the residence of the fifth Dalai before his nomination by the government of the Qing Dynasty (1644 - 1911).

Organizational System and Education System
The organizational hierarchy of Drepung Monastery is rather complex. The main branches of the organization consist of Coqen, Zhacang, Kamcun, and Myicun. Coqen is in the highest position, to which Zhacang belongs, and Kamcun is under the jurisdiction of Zhacang, with the Myicun as its subordinate. Monks belonging to respective Zhacangs cannot interblend with each other.

The education system in Zhacangs is set up such that, every year there are eight chances to study the sutra collectively, each time spanning from half a month to a month. Monks are tested before the Kampo in the method of reciting sutras and debating, and based on their performance; receive the degrees of different levels.