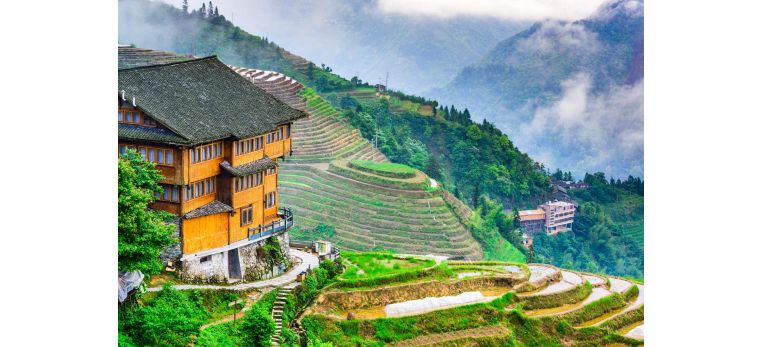 Longji Rice Terraces, literally Dragon's Backbone Rice Terraces, gains its name because the rice terraces resemble a dragon's scales and the mountain range looks like the backbone of a dragon. It is reputed as one of the most beautiful rice terraces in the world.

It is located in Longsheng County, about 80 kilometers (50 miles) from Guilin and 140 kilometers (90 miles) from Yangshuo. The construction of incredible Longji Rice Terraces started in the Yuan Dynasty (1271-1368) and lasted till the early Qing Dynasty (1644-1911). Now, the Dragon's Backbone Rice Terraces covers an area of 66 square kilometers (about 16,308 acres) and spans an altitude between 300 meters (about 984 feet) and 1,100 meters (about 3,608 feet). Among them, two main and representative viewing areas are the Ping'an Zhuang Village Terraced Fields and the Jinkeng Terraced Fields where Zhuang and Yao Minority people have been living respectively for hundreds of years. In addition to appreciate the rice terraces, visitors can learn some unique customs in Longsheng rice terraces scenic area.

Ping'an Zhuang Village Terraced Fields
Ping'an Zhuang Village Terraced Fields have totally 15,862 pieces of rice terraces, some big while some tiny. Here visitors can appreciate two unique sights of rice terraces. One is the "Seven Stars Accompany the Moon", which is comprised of seven small piles of rocks left deliberately by people when they dig up the terraces and a moon-shaped terrace in the middle. Looking at it from a distance, it looks like "seven shinning stars" accompanying the "moon". It is a perfect place for photography. Another one is "Nine Dragons and Five Tigers". The nine ridges spread from the main vein of Dragon's Backbone, which look like nine dragons bending over to drink water from the Jinsha River. Alongside, there are five tiger-shaped rocks. It takes about 2 hours to visit this area.

Being the first rice terraced area in Longji Rice Terraces that was developed for tourism, Ping'an Zhuang Village Terraced Fields is now well-equipped with modern facilities. The dining, accommodation and transportation are quite convenient.

Jinkeng Rice Terraces Fields (Dazhai Rice Terraces)
The Jinkeng Terraced Fields are inside the Dazhai Village, with mountains on all sides and known for its rich mineral resources of gold. Here visitors should not miss its three famous scenic spots - West Hill Music or No.1 viewing platform, Large-scale Thousand-Layer Terraces or No.2 viewing platform, and Golden Buddha Summit or No.3 viewing platform. All with high elevation of more than 1,000 meters (3,280 feet), they are the best places for viewing the sunrise and sunset as well as overseeing the whole Dragon's Backbone Rice Terraces. A visit needs about 4-5 hours.

Dazhai Village is also equipped with hotels and restaurants for visitors' convenience. But it is less commercial than Ping'an.

Colorful Folk Customs of Zhuang and Yao Minority People
The dwellers of Longsheng Rice Terraces are mostly Zhuang and Yao minority people. They have their own unique and interesting customs in dinning, clothes, and living styles, etc. For instance, their houses are stilt houses to repel moisture; the ladies of Yao minority like to have long hairs, and some of their hairs are over 1 meter long; their clothes are very colorful with delicate embroidery.