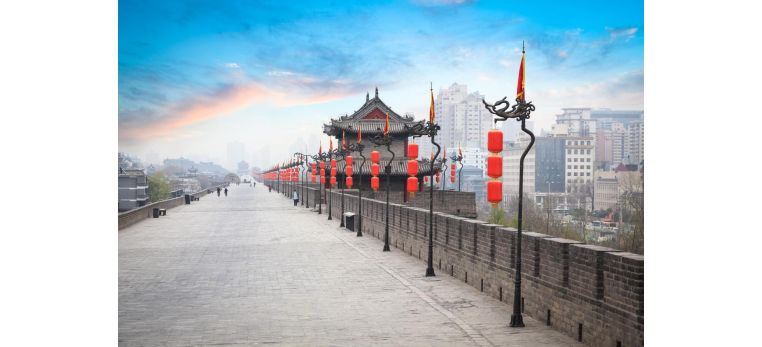 Xi'an City Wall, also known as the Fortifications of Xi'an, is the most complete city wall that has survived in China, as well being one of the largest ancient military defensive systems in the world.Adorned with a moat and the circular City Wall Park, the wall surrounds the square inner city. It is the most complete city wall to survive in the country, as well being one of the largest ancient military defensive systems in the world, built first in the early Ming Dynasty (1368-1644) and renovated in recent years.
When Zhu Yuanzhang, the first Emperor of the Ming Dynasty (1368-1644), captured Huizhou, a hermit named Zhu Sheng admonished him that he should 'built high walls, store abundant food supplies and take time to be an Emperor,' so that he could fortify the city and unify the other states. After the establishment of the Ming dynasty, Zhu Yuanzhang followed his advice and began to enlarge the wall built initially during the old Tang Dynasty (618 - 907), forming today's scale of Xi'an City Wall.
After the extension, the wall now stands 12 meters (40 feet) tall, 12-14 meters (40-46 feet) wide at the top and 15-18 meters (50-60 feet) thick at the bottom. It covers 13.7 kilometers (8.5 miles) in length with a deep moat surrounding it. Every 120 meters, there is a rampart which extends out from the main wall. All together, there are 98 ramparts, which were built to defend against the enemy climbing up. Each rampart has a sentry building, in which the soldiers could protect the entire wall without exposing themselves to the enemy. Besides, the distance between every two ramparts is just within the range of an arrow shot from either side, so that they could shoot the enemy, who wanted to attack the city, from the side. On the outer side of the wall, there are 5,948 crenellations, namely battlements. The soldiers can outlook and shoot at the enemy. On the inner side, parapets were built to protect the soldiers from falling off.
Initially, the wall was built with layers of dirt, with the base layer including also lime and glutinous rice extract. Throughout the time the wall has been restored three times. In 1568, Zhang Zhi (the government officer of that period) was in charge to rebuild the wall with bricks. In 1781, another officer, Bi Yuan, refitted the wall and the gate towers. More recently (since 1983) the Shaanxi Provincial Government restored the wall again. The circular City Wall Park has been built along the high wall and the deep moat. The thriving trees and flowers decorate the classical Chinese architecture of the wall, adding additional beauty to the city of Xi'an.